Mission 2: "Into the Caves"
In mission two of Act One in Age of Empires 3, Into the Caves, Morgan and his men move on the offensive, pushing the Ottomans out of Malta. In this level you will be primarily tasked with the destruction of a series of weapons caches.
Primary Objective: Defend the base from the Ottoman attack.
As you start this level, your starting base will be under attack by a small group of Ottoman forces. Quickly move all your units into range to combat the attackers and assist in the defense. You are given a single Great Bombard to use in this mission and you should do your best to keep it alive and protected throughout the mission.
Secondary Objective: Claim the nearby Treasure (300 XP)
Although presented with other objectives after your successful defense, you will first want to acquire the two nearby treasure items. One is visible from the start of the game, just northwest of your base while the second is north some ways near a gold mine. Pick these up to give you some bonus experience towards growing your home city while giving you additional starting resources.
Primary Objective: Build an Artillery Foundry and train 10 Hoop Throwers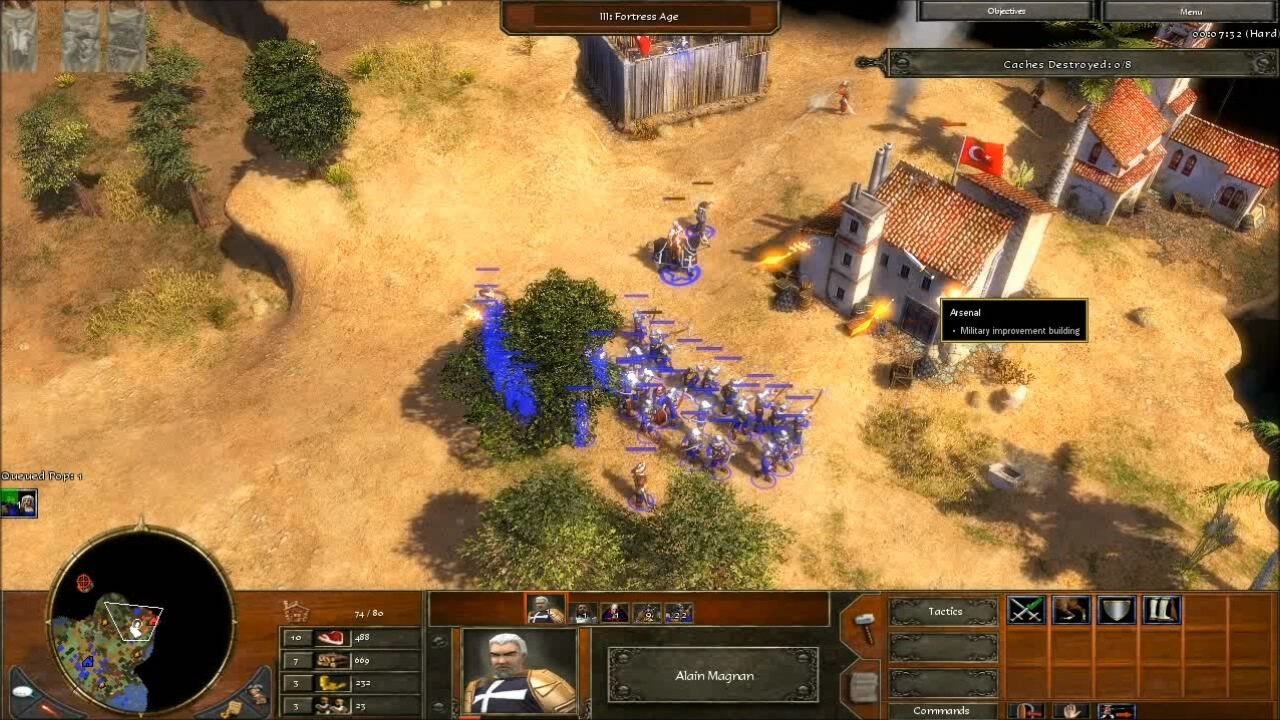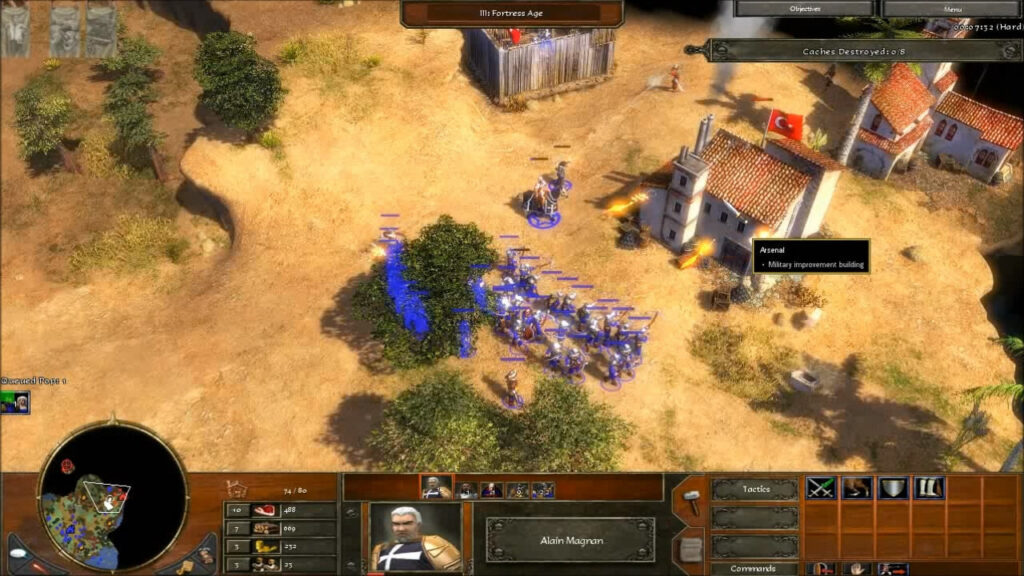 Next up it is time to complete this objective, as you will need the Hoop Throwers to fight off the Janissary and can make use of some Mortar teams for the destruction of buildings in the remainder of this mission. Train the 10 Hoop Throwers you need and queue up one or two Mortars afterwards once you have the resources.
Secondary Objective: Find the shipwreck and gather its supplies. (300 XP)
To the east of your base, just across the water some there is the shipwreck along with several crates worth of resources and some treasure along with treasure guardians. Send Morgan with some units and Settlers to capture the treasure and claim these resources to give yourself a substantial boost. The earlier and quicker you can get this done, the better.
Destroy the Ottoman Base
Travel directly Northeast from your base along with your artillery and your massed army to gut the Ottoman base and rescue some additional soldiers at the same time before approaching the Weapon Caches. Take out everything you find there, including the Town Center and most importantly the Barracks to stem the Ottomans offensive capabilities and allowing you to steamroll your way across the rest of the map.
Work your way around towards the entrance of the tunnel further north and make sure you've cleared out any remaining buildings. The experience from destroying these structures alone is worth the effort.
Primary Objective: Destroy all 8 Weapons Caches
Start working on the target buildings now, starting with the Weapon Cache pointed out on your map from the beginning, outside of the tunnel network. You will also find more soldiers to rescue near this first cache.
Last Updated on October 5, 2020 by Standard of Entertainment